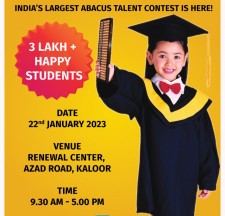 SMA ABACUS NATIONAL TALENT CONTEST 2023...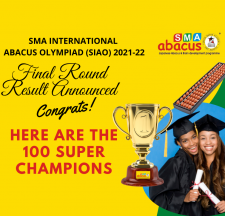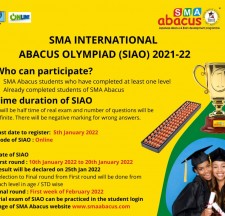 SIAO -SMA INTERNATIONAL ABACUS OLYMPIAD
SIAO -SMA INTERNATIONAL ABACUS OLYMPIAD FINAL...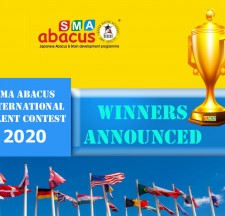 Testimonials
Teachers at SMA Abacus are very dedicated and helpful. I appreciate the individual attention given in classes. Thank you SMA Abacus

Harikumar, Technopark,Trivandrum Parent of Sreelakshmi
I'm very happy with my daughter's progress in school as she is able to do the arithmetic calculation in mind quickly after attending SMA Abacus classes.
Dr.Kripakaran , Kilpauk, Chennai. Parent of Madhumitha
I recommend SMA Abacus classes for all children as it develops concentration in them. After completing SMA Abacus Course my son is able to concentrate much better in his classes.

Abdul Rasheed, Businessman, Dubai. Parent of Irfan Ali.
My daughter used to hate mathematics but after completing SMA Abacus classes, she started loving Maths.

Susan Alexander, Nest Group, Ernakulam Parent of Ann Mary Alexander
SMA Abacus course immensely helped my child to do arithmetic calculations quickly. His speed and accuracy in calculations have improved very much.
Mahesh Prabhu, Infosys, Bangalore Parent of Shyam Prabhu
SMA Abacus classes were really helpful to my children. My children after completing SMA Abacus training could score high grades in school. Their memory power developed remarkably and their calculation ability improved to a great extent. My children are more confident and highly motivated in their studies now. Thanks to SMA Abacus

Shri.Sasikumar, Calicut. Parent of Theertha and Navaneeth

To Top ↑ franchisee opportunity